Aphrodite Super Standing Dryer
Aphrodite Super Standing Dryer is made for professionals by professionals. It is the most durable and trust worthy dryer ever created by Aphrodite. It's 20 year history within the industry speaks for itself. Long lasting and powerful is the pride of the Aphrodite range.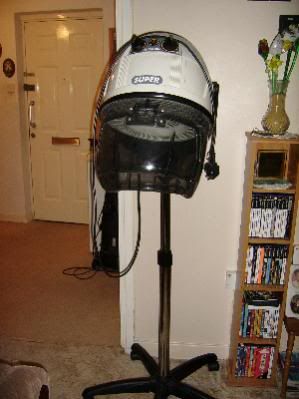 1.
1000 watts of pure power
2.
Adjustable stand
3.
Adjustable hood visor
4.
Adjustable thermostat control
5.
Automatic timer setting
The TRUTH:
I am very pleased with this dryer, I use it to dry when I roller set my hair.
I use it to carry out my DC treat on my hair weekly, I will add my DC conditioner and put on a steam cap/shower cap and then sit under this dryer for say 30 - 40 mins. This baby can get hot as it has variable temperature which I have tried it on almost the setting, maximum heat setting is 70 degrees Celsius, I tend to stick with 50 degrees Celsius.
I believe it is a good option (in comparison to a steamer) as it can dry the hair as well as steaming well by using a steam cap/shower cap. I am not saying that a steamer is not a good option but if you want both benefit in 1 then this dryer is awesome; if you do not have a lot of space and or on a budget then this dryer will fits perfectly into both those criteria.
I am very pleased and chuffed (Brit for being very happy lol). I got it as a Gift **I was cheesing hard** when I unboxed it.
Rating:
5/5